It's back, but
maybe
not in black?
The World Cup is in Japan for the first time. Konichiwa, bitches.
While it'll be great to see rugby head to relatively uncharted territories for the first time – ignoring that rugby's actually fairly popular in Japan (something like the 2nd or 3rd largest playing pool of any country) and international tournaments have a way of getting everybody interested – the unfortunate downside are some utterly dogshit kickoff times for us people west of the Prime Meridian.
Check out this list: brutal
. Gah. It'll definitely suck in the UK: I remember New Zealand 2011 and the interest just wasn't there compared to France 2007 or (obviously) England 2015, because most of the games were in the middle of the night. I imagine a lot of the real rugby heads in the US are gonna end up watching games alone by the glow of their iPad in bed instead of with their buds in the pub.
The upside is, although the Internet has been moaning about this for weeks,
US TV coverage will be the best it's been since 1995
. More than half of the games are on NBCSN or NBC, meaning you really don't need to pay the ridiculous $200 NBC Rugby World Cup Gold streaming package unless you HAVE to see Australia vs. Georgia. Every USA game (more on them later) and every knockout game is on NBCSN – with the possibility some will be reshown or tape delayed to a semi-reasonable hour on NBC – and by my count there's only five really must-watch games exclusively on NBC Rugby World Cup Gold. For those games, fire up a VPN, sign up for ITV's catchup service as they're showing every game live, fake a British postcode (I'll save you a Google: CF10 1JA, which is Cardiff Arms Park) for the sign up, and Bob's your uncle. That will get you into France-Argentina, Ireland-Scotland, Japan-Ireland, Australia-Wales, and England-Argentina, which are the cream of the NBC streaming-only games. Throw in Japan-Samoa too, actually, so six games. Everything else, assuming you still have cable, you can use your TiVo. WE LOVE TIVO FOLKS, WE LOVE IT!!!
So, to the nuts and bolts: who's going to win, who is going to fall flat on their face, how will the USA do.
Who's going to win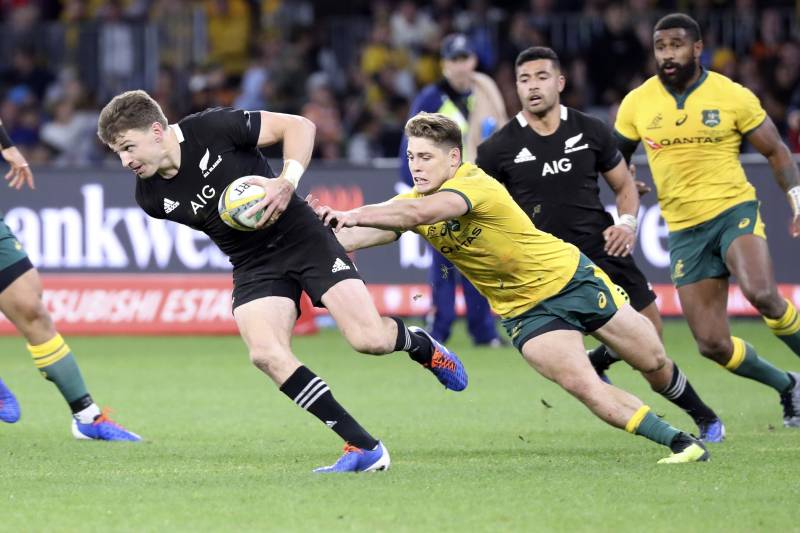 Uh... I don't know? This is the most open Rugby World Cup in a long time, possibly ever. For almost every tournament, New Zealand have been prohibitive favourites. Sure, they've screwed up: they were disjointed and tired in 1991 and 2003 and got rightfully knocked off by the Aussies in the semifinal. France went bonkers against them in 1999 (one of the first rugby games I ever watched, and still my favourite) and 2007. Humanity won when they lost to South Africa in 1995 and Nelson Mandela, clad in the rugby shirt that was as much a symbol of apartheid as Robben Island itself, handed Francois Pienaar the trophy.
But South Africa won the Rugby Championship (the main competition between the Southern Hemisphere powers) this year, not NZ. The All Blacks drew with South Africa at home, struggled to beat Argentina, and Australia just flayed the All Blacks in Perth by a remarkable score of 47-26. Scott Barrett got sent off, but they've suffered that before and not shipped almost 50 points. One of the truisms of an unsuccessful All Black World Cup campaign is the ABs not knowing their best team, and that's happening this year. Steve Hansen has kicked Beauden Barrett, the world's best flyhalf, to fullback for Richie Mo'unga. Kieran Read is 33 now and might have to move to 8 so Ardie Savea can play his best position, Brodie Retallick isn't even going to play until the quarterfinals due to a separated shoulder, there's not much settled in the loose forwards and centres area of the pitch. Lots of depth, but good AB teams have somebody you know is going to start. They could easily win this World Cup, but I just wonder if there's just enough wrong with the ABs to prevent that.
If they lose, it'll likely be at the hand of South Africa (who they play in the pool stages), who seem to be in the best form and have unprecedented squad harmony both in terms of race and provincial infighting. Rassie Erasmus took over a squad that had recently lost to Italy (!!) with a mandate to whip them into shape for the World Cup... while also being sufficiently diverse to satisfy the African National Congress, who have taken more than a little notice of South African rugby's rather lacklustre approach to diversity. Picking Siya Kolisi, not just as an actual openside flanker (something the Springboks rarely have), but as the Springboks' first black captain, proved to be a genius move that got everybody applauding and brought Erasmus valuable time to reinvent the squad. It's more diverse, but even more importantly better. Kolisi has formed an excellent partnership with tackle machine Pieter-Steph du Toit, a throwback of the old school of Afrikaner flankers (big dudes who can work in the lineout and tackle all day). Faf de Klerk turned into a world-class scrumhalf, and if he's tired or carrying an injury, Herschel Jantjies proved to be the find of the Rugby Championship. Handre Pollard is a beast of a flyhalf. And the big dudes, Lood de Jager and Eben Etzebeth, are still there dominating the lineout. They're 4/1 on PaddyPower, which seems like seriously good value.
Beyond that, you've got England, Ireland, Wales, and Australia. And France, who might do crazy French shit and get all the way to the final.
England don't look as invincible under Eddie Jones as they did a few years ago, but they smoked Ireland in the World Cup warmups and are still packed with good players. Maro Itoje is a world class lock, Tom Curry is a beast of a flanker, Kyle Sinckler a great ball carrier and capable scrummager, Andy Farrell a top goalkicker. They've got excellent first phase ball carriers in Billy Vunipola, Manu Tuilagi or Joe Cokanasinga, the kind of people you really don't want to tackle. England are going to be fit, boring, and really very hard to beat.
Ireland, sadly, look a little bit like they're past their best. Sure, they're the top ranked team in the world at the moment, having beat the All Blacks twice in three years, but Rory Best is 9000 years old, possibly can't throw properly into the lineout anymore, and he's the first name on the team sheet because he's the fuckin' captain. Johnny Sexton is a genius, and also 34 and struggling with injuries. Rob Kearney is 33. Even Peter O'Mahony is 30. Conor Murray is 30, and him and Sexton are the spine of the team. This team is OLD. They got routed by England 57-15 in a World Cup warmup, and although they went on to beat Wales twice, it's concerning.
Wales have lost their number 8 (Taulupe Faletau) and flyhalf (Gareth Anscombe) to injury during the World Cup warmups, but still look as cohesive and together a squad as any in the Northern Hemisphere. Even after Rob Howley, their (actually quite crappy) attack coach got booted out of the camp the other day for betting on rugby. Yeah. Their captain, Alun Wyn Jones, possessor of one of the world's most Welsh names and the best combover in rugby, keeps on keeping on at the age of 34. This is one geriatric rugby player you don't have to worry about. The experienced Dan Biggar has returned to his post as first-choice flyhalf in Anscombe's absence, the potential for Justin Tipuric and Josh Navidi in the backrow offers some dynamism, George North is still a world-class winger, and their trump card has been Warren Gatland's ability to make them fit and believe in pulling off the comeback. They even got over the hump against Australia last year.
Australia are a friggin' mess, but we said that in 2015 and they got to the final and gave the All Blacks a real game. Can Michael Cheika break the rush defence used by practically every one else with Samu Kerevi's hard running and offloading skills? Yeah, sure, why not. If David Pocock is fit, yeah, sure, why not. The talent's always there for the Wallabies.
Who is going to fall flat on their face?


Well, one of England, France or Argentina (2015 semifinalists) for certain, since that's the Group of Death. My money is on France, Jacques Brunel still doesn't know his best 9 or 10, Antoine Dupont or Baptiste Serin, Camille Lopez or Romain Ntamack, the captain is the hooker Guilhem Guirado and Camille Chat is better than him. But it's France, if they get their shit together (apparently they have a forwards coach now.... which implies they didn't have one before) they've still got Damian Penaud, who is a really good winger, the indefatigable Louis Picamoles and the guys I mentioned before are all actually good.
Japan are clearly the best Tier 2 team there, regardless of them being hosts, and it's plenty possible one of Ireland or Scotland goes home. If Scotland beats Ireland, then the Ireland-Japan game a week later is a must-win for Ireland. If Ireland beats Scotland, then it's likely we go to down to the last pool game between Japan-Scotland. It's certainly possible they all knock off each other at least once, and then it comes down to who beats up on Russia and Samoa the most and picks up bonus points. It's not even outside the realm of reason that Samoa, who are dysfunctional (Pacific Island rugby teams are like African soccer teams, full of talent and full of agita that they've not been paid) but certainly capable of knocking off somebody on their day with huge hits, genius from Tim Nanai-Williams, and Tusi Pisi's kicking boots. They're not consistent enough to get out of the group, but they could certainly spoil someone's party.
How will the USA do?
Bad. And annoyingly, this won't be their fault. Major League Rugby has produced the best USA team ever: finally free of the strictures of amateurism, a fully professional squad of USA players can compete for 80 minutes without collapsing due to having to work a 9-5 job. 13 USA players ply their trade abroad, a number that will probably increase after the World Cup. In 2018, the USA beat a Tier 1 country in Scotland for the first time since 1924. The USA's beaten Samoa twice on the trot, traditionally one of the strongest Tier 2 countries and a team the USA had never beaten before 2018. AJ MacGinty, an Irish import, is maybe the USA's best-ever flyhalf (certainly the best since prime Mike Hercus), a tradition where the USA has traditionally really struggled. The pack is good, with Titi Lamositele one of the better props in English club rugby and Joe Taufete'e a tryscoring machine at hooker. Paul Lasike is a classy centre. So what's the problem? England, France, Argentina. That's the USA's first three games. Two serious contenders and a 2015 semifinalist. It's brutal.
It leaves Tonga as the USA's only realistically winnable game and Tonga are plenty good enough to win. They've only lost to the USA once, although the USA hasn't played them since MLR began – and MLR has changed things. But the USA could give a very credible performance and go 0-4. Even beating Tonga would represent a major achievement, as the USA has only won three World Cup games ever: Japan in 1987, Japan in 2003 (one of the better "minnow" games of any World Cup –
worth a watch on Youtube
) and Russia in 2011 (an 11-6 borefest). Coach Gary Gold's remit is going to be to beat Tonga and keep the scores down versus the three big boys, although I have a feeling he might throw the second-stringers to the wolves of Argentina to keep his first-choice players healthy for Tonga four days later.