holden
Lifetime Member
SoSH Member
On this day in 1939, Ted Williams made his major league debut for the Red Sox, going 1-for-4 with a double vs. the Yankees. He would place 4th in the AL MVP vote after the conclusion of his rookie season.
Ted Williams's 1941 line is as follows: .406/.553/.735, 1.288 OPS, 235 OPS+ (8th highest single-season mark). The .553 OBP was the highest single-season figure until Bonds's 2002 (.582) and 2004 (.609) seasons.
His last season (1960), as a 41-year old outfielder, he put up a .316/.451/.645 with an OPS+ of 189. Which was three seasons removed from what might be his most amazing year of all, given his age... his 1957 season: .388/.526/.731 (233 OPS+) at 38 years old.
He is the all-time leader in career OBP (.482), second all-time in career OPS+ (190, to Ruth's 207… Bonds is 3rd at 182).
These are the most basic of statistics, but in light of the current SABR-heavy focus on how production is measured and with today's players' numbers as a convenient framing device, Ted's numbers seem all the more fanciful. What would it be like to see this guy play now, especially given his larger-than-life persona and all of the off-the-field stuff that constantly swirled around him? Let's not forget his role in bringing the Jimmy Fund to the forefront of the public eye, as well as his war hero status; he flew F9F-5 Panthers in combat missions with John Glenn! His life deserves a Hollywood epic, except you could never cast the lead part, because John Wayne is dead.
In the mid-80s I went to an Old-Timers' Day at Fenway with my father. We had seats in the boxes along the 3rd base/left field line, past the bend where it juts out toward left field at an angle. Ted played left field that day, and in the lull before the start of one inning he was casually glancing at the crowd. He happened to be looking at the area where we were seated, and my father (as emotionally reserved a man as you might find) hesitantly raised his hand to Ted, giving him a wave, all the while seeming like he couldn't believe he was actually doing it. My father was born in 1946, and Ted was his first and only idol.
It wasn't very crowded at that point -- the Old Timers' game preceded the actual Sox game, and not everyone had arrived yet -- and Ted spotted my father's wave, and raised his hand in return.
My dad nodded to him and put his hand down, then turned to look at home plate with a smile so forceful it seemed as if he was trying to repress it for fear of his face falling off or something, his hands clenched into fists out of sheer joy. He said nothing, which was par for the course with my dad, but even if he had wanted to, I don't think he could have. I was 14 or 15 at the time, and I thought to myself,
Holy crap, my dad is a kid again
.
And Ted's ability to make that happen was far more impressive to me than any OPS+ he ever put up.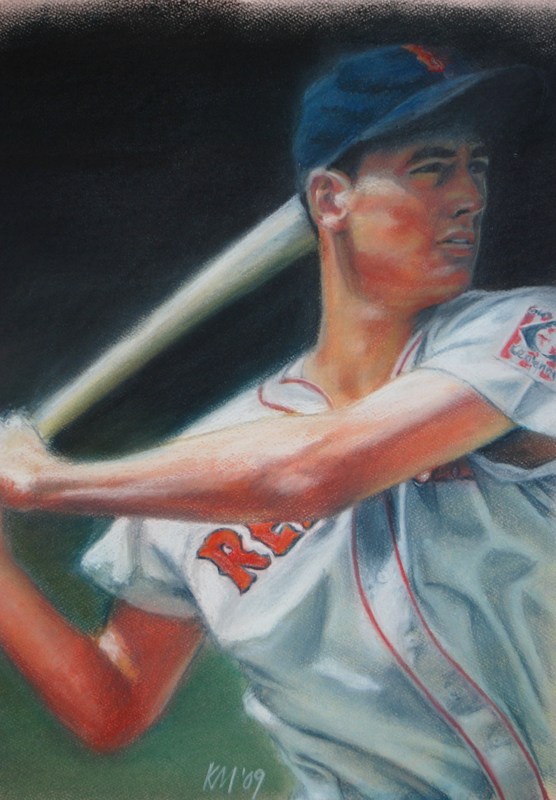 Last edited: