Yeah, of course I was gonna start this.  
Tournament is hosted by England and starts on Friday.
Fixtures are here
- most of the best pool games are going to be played at 16.00 or 20.00 British time, so 11am EDT or 3pm EDT. Pretty convenient for US viewers.  
Unfortunately TV is going to be a bitch in the US,
with a very expensive PPV service covering most of the matches
. Universal Sports are going to show the opening game and the US matches, and NBC will show one semifinal on tape (Universal Sports will have the other) and the final live. Amazingly, given the sports TV landscape (and that it was the only World Cup the US failed to qualify for), the best Rugby World Cup for coverage was 1995, when Prime/Sportschannel showed most games live. Ugh. Online streams will be plentiful, though, and top tip: get a good VPN and stream ITV from England.  
After the last tournament in New Zealand, which often felt like it was only followed by people in New Zealand due to the brutal time differences, it's nice to have a tournament that people are getting excited for, at least here in the UK.  
The favorites are going to be New Zealand, no doubt about it, who have drawn more games than they have lost since the last World Cup (three to two). If they don't win, likely candidates are going to be the age of the team - they've picked a lot of the same dudes as in 2011, and a lot of key players are on the wrong side of 30 - and general complacency. In 1991, New Zealand came to a World Cup in England as defending champs and almost as heavily favored as they are now, but generally floated through the competition before being knocked off by Australia in the semifinal, a loss that the All Blacks at the time put down to not wanting it enough. But Richie McCaw, the best player I've ever seen, is still there captaining the All Blacks. Dan Carter, the best flyhalf I've ever seen, is still there too. And in a World XV, 10-11 players might come from the NZ team.  
Australia and South Africa have had shaky runs in the previous four years, but are always dangerous. The Springboks in particular are just loaded with talent (all-time great winger Bryan Habana, all-time great lock Victor Matfield, flyhalf Handre Pollard, lock Eten Eztebeth) and I can easily see a scenario where they finally put it together and win it all - this is what happened when the tournament was last in Europe in 2007. England are probably the likeliest team from Europe to go on a run, but Ireland, Wales and France could all make the final if things break their way. Australia have won the Rugby World Cup the last two times it was in the UK, and feel confident. They've bought experienced old hands Matt Giteau and Drew Mitchell in from abroad, David Pocock is still awesome, and Israel Folau makes Jarryd Hayne look untalented as an athlete.  
Group A, England's group, looks to be perhaps the all-time Rugby World Cup Group of Death, as both Australia and Wales (and somewhat dangerous Fiji) are in the group. Although Wales recently lost two key players due to injury, there is still a very decent chance the hosts get knocked out in the group stage. England are talented, but a little shaky, and coach Stuart Lancaster has been making a very big show of how the team's togetherness is key for them, dropping some talented guys like Danny Cipriani, Dylan Hartley and Chris Ashton because they aren't team players. Wales have talent, but those losses are huge: starting halfback Rhys Webb and fullback and goal kicker extraordinare Leigh Halfpenny. They are seriously weakened by those two losses. How all three teams play Fiji (a dangerous Pacific Island team that beat Wales in 2007 to reach the quarterfinals) will be key. Fiji won't beat all three teams, and they probably won't beat two either. But they might beat one, and that would make the run to the quarters incredibly easier for the other two heavyweights. Uruguay is the last team in the group and they're literally a bunch of amateurs. But their games are important as it's very possible, maybe even likely, that the three heavyweights beat each other, and progression from the group comes down to points difference, so whoever beats the complete shit out of Uruguay might buy themselves a place out of the group. World Rugby is very proud that no team had a century put on them in 2007 or 2011 (after Australia beat Namibia 142-0 in 2003) but that might change in 2015 - or at least Uruguay is the most obvious candidate.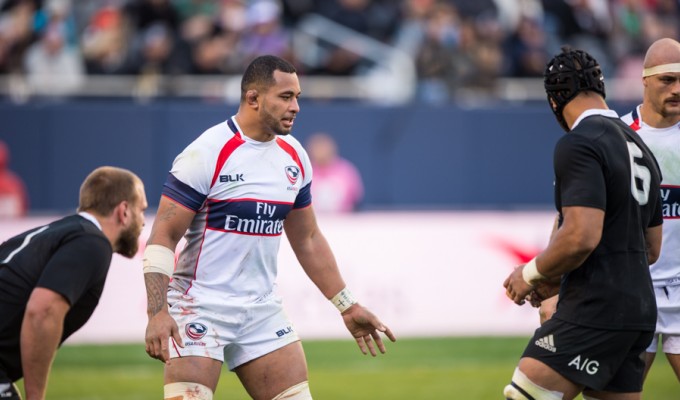 Group B is where the Eagles play - the USA has Samoa, Japan, Scotland and South Africa in their group. South Africa are almost certainly through barring a total humiliation the likes we've never seen before, so the drama is going to be whether Samoa can knock off Scotland and beat them to 2nd place. Unlikely - Scotland has a good pack, and Samoa (like all Pacific Island teams) tends to get strangled by teams who can push their weaker pack around and keep it tight.  
The goal for the Eagles is to reach 3rd place and secure automatic qualification for 2015. Japan is a very winnable game for the Eagles, after a lean couple of years the USA came back against a team they used to beat and won a tight game versus Japan, 23-18, in the Pacific Nations Cup. Losing to Japan would certainly represent a major setback and coach Mike Tolkin would likely be shown the door. Beating Samoa is the goal - it won't be easy as the US has never beaten Samoa before, but the US has had several games against Samoa they might have won (they lost 21-16 this year). It's on Sunday, so the US's best moment in the World Cup might be their first. If they're going to do it, it'll take big games from people like Samu Manoa (an old high school teammate, who now plays for Toulon, arguably the best club team in the world), halfback Mike Petri, and flyhalf AJ MacGinty. MacGinty's a real find - an Irish kid who qualifies through residency, he's delivered the US's best play from flyhalf possibly since 2003, and really uses his kicking well to cover up for an atypically weak USA forward pack that doesn't muscle around teams as well as they used to. Other names to watch are Danny Barrett (cough high school teammate cough), centre Thretton Palamo who is back in rugby after appearing for the 2007 Eagles as an 18 year old (cough little brother of old club teammate cough), centre Seamus Kelly (who plays for my old club), and captain Chris Wyles, who plays for Saracens in England and is bringing up 50 caps during the World Cup.  
Versus Scotland and South Africa, the goal will likely be to keep the score down, although Scotland are shaky enough that it's not inconceivable the USA could knock them off. But very unlikely.  
Group C is New Zealand's group and it's going to be boring as shit. Argentina will play them close for about 50 minutes then fade away, and both teams will kill Tonga, Georgia and Namibia. Tonga facing NZ will be fun - like all Pacific Islander teams, Tonga has very close links to NZ (several Tongan players are essentially first-generation Kiwis), and they will be excited as fuck to play the All Blacks.  
Group D is Ireland, Canada, Italy, France and Romania, and will be more intriguing. Ireland haven't had the greatest run up to the tournament, but they've won two Six Nations trophies on the bounce and have generally been very strong for the last few years. Hopes in Ireland are very high that they could make their first-ever semifinal. Jonathan Sexton is the best flyhalf in Europe, Jamie Heaslip is a great number eight, and old hand Paul O'Connell will captain the team in his last games for Ireland. France continue to be perhaps rugby's greatest underachievers, as they've had another ass-wrenchingly tepid Six Nations (amazingly, in the four years Philippe Saint-Andre has coached the team, he's never finished higher than fourth in the Six Nations). They bossed England around in a warmup game and looked pretty good, but I don't know if I have faith in them. Unfortunately, Italy look unlikely to make them pay.  
Of course, you could have said all this in 1999 and they went and beat New Zealand 43-32 (after losing to NZ 51-7 five months earlier) in maybe the greatest rugby game ever, and made the final. You could have said a lot of this in 2011 too, especially after France lost to Tonga in the group stages, but they made the final and lost 8-7 to New Zealand in a game they probably should have won.  
It'll be fun - my pick is for New Zealand to beat South Africa in the final, but really I wouldn't be shocked to see any of NZ, Australia, SA, Wales, France or England in the final.