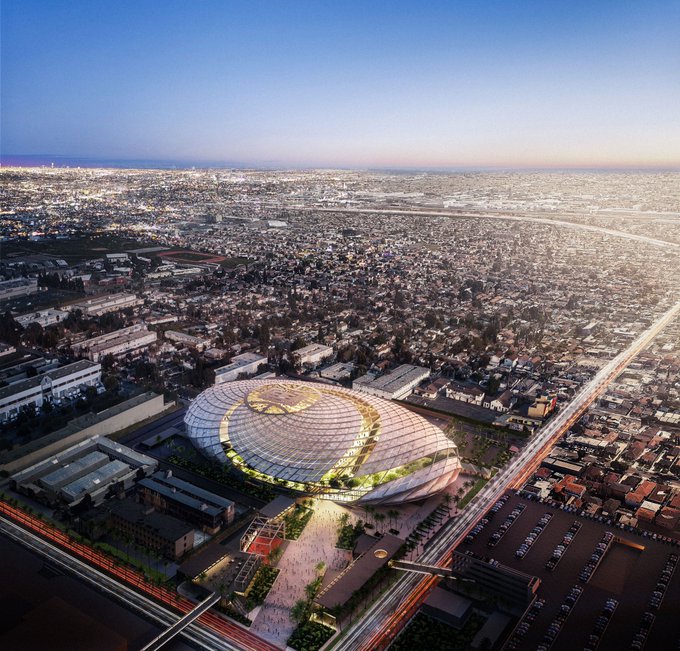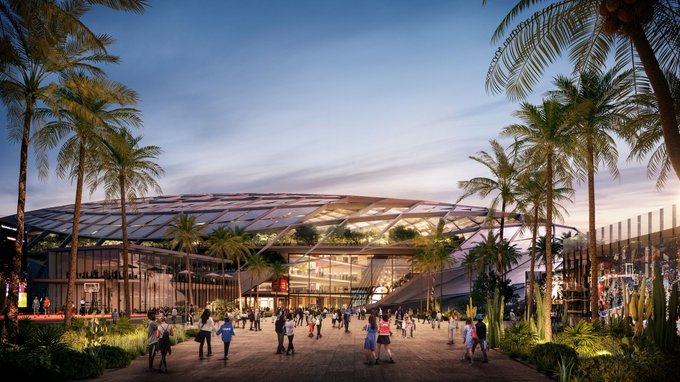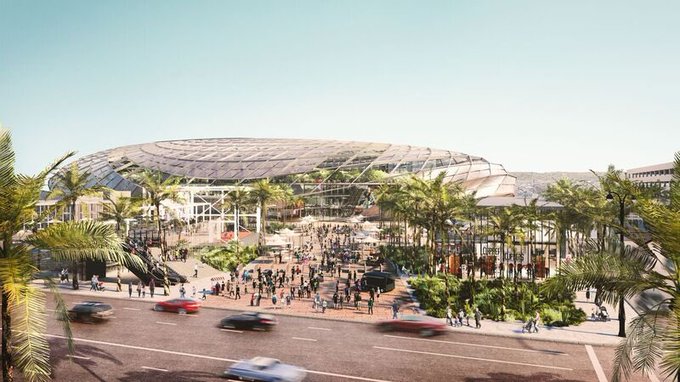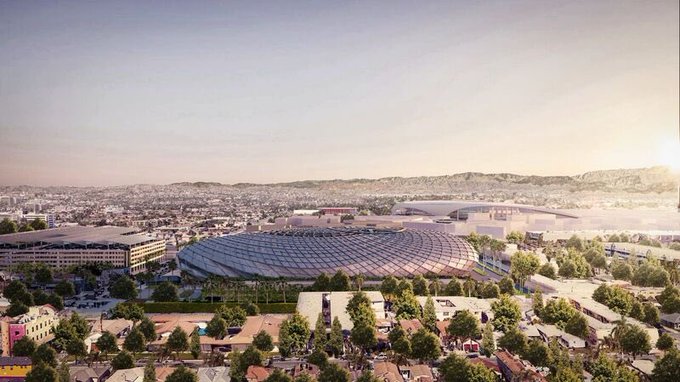 Per Jovan Buha of the Athletic the complex will include an 18,500-seat arena, a corporate HQ building, the team training facility, a sports medicine clinic, community courts, park spaces, educ. facilities, restaurants & shops.
Via the LA times:
"When I bought the team I thought it was great we didn't need to build an arena," Ballmer told The Times. "But as we looked forward we were at some disadvantages in Staples Center."

The Inglewood arena, he added, "is a way for us to define our own identity. … People, I think, will say, we play in the Lakers' building. We'd like to play in the Clippers' building. That's what we're working on."

Ballmer lives in Seattle but called the arena project a long-term commitment to the Los Angeles market.
"We're not moving," Ballmer said of he and his wife, Connie, "and neither is our basketball team. Let's get that out of the way."

Project backers say the arena complex will be entirely privately financed, use no public money and will require no additional infrastructure surrounding the site to be paid for by the city. Renderings call for the finished site to hold three parking garages, a sports medicine clinic, spaces for parks and educational facilities, restaurants and businesses and an indoor court available to the community. Outside, a giant LED screen would create a viewing area similar to "Jurassic Park" outside Toronto's Scotiabank Arena.

The site's anchor is a 900,000-square-foot arena whose exterior would include solar panels and is designed to symbolize the diamond shapes in a basketball net.
The Los Angeles Clippers unveiled the first details and renderings of their proposed Inglewood arena, a billion-dollar project funded by owner Steve Ballmer.
www.latimes.com
From the clippers site.
The proposed arena will have a three-dimensional oval design with a unique exterior of diamond-shaped metal panels inspired by the concept of a basketball swishing through a net. In addition to attractive aesthetics, the panels have been designed to provide solar benefit for maximum energy efficiency, as part of the facility's LEED GOLD-certified design.

The facility's most striking feature, intended to highlight the temperate climate of Southern California, is the integration of indoor/outdoor "sky gardens." These landscaped areas for food and beverage will be accessible from every concourse level. The complex also envisions a multi-purpose plaza complete with concert stage, community basketball courts and space for the community to gather and watch everything from Clippers Playoff games to movie premieres on a supersized LED screen.

The Clippers campus will achieve net zero greenhouse gas emissions through a combination of carbon offset credits and sustainable design features.
The L.A. Clippers today unveiled renderings and additional details of the team's privately-financed sports and entertainment center anchored by their new basketball arena in Inglewood.
www.nba.com
CC
@ElUno20
Last edited: