The Red Sox supplemental pick (#39 overall) in the 2010 Amateur Baseball Draft.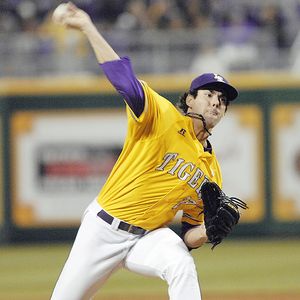 Name: Anthony Ranaudo
Position: Pitcher
Bats: Right
Throws: Right
School: LSU
Class: Junior
Birthdate: 9/9/1989
Height: 6'7"
Weight: 230 lbs.
Agent: Scott Boras
Lots of SoSH discussion already about Ranaudo in the
Red Sox 2010 amateur draft
thread.
Trade Rumors
nailed it a couple weeks ago in their Prospect Previews:
QUOTE
College righthanders are always a hot target come draft day, and coming into the season the best one this class had to offer was Anthony Ranaudo of Louisiana State. He made a name for himself by winning the clinching game of the 2009 College World Series, giving the Tigers their first National Championship since 2000.
Despite all his promise, Ranaudo's season was derailed by a sore elbow that not only cost him a month of the season, but also some of his effectiveness. ESPN's Keith Law recently ranked him as the 20th best prospect in the draft, while Baseball America had him 23rd (sub. req'd for both). Expected to be no worse than a top five pick a few months ago, now it's a question of whether or not Ranaudo will even be selected in the first round. He owns an 8.02 ERA with a 39/21 K/BB ratio in 42.2 innings this season, and opponents are hitting .301 off him.
Looking beyond the stats, it's easy to see why scouts like Ranaudo. He towers over the competition quite literally at 6-foot-7 and 230 lbs., and MLB.com's Draft Report says he throws his fastball up to 93. He backs it up with an over-the-top spike curveball and an average changeup, and when he's right he commands everything well. After the injury, his stuff wasn't as sharp and the control wasn't there. The MLB.com link offers video.
Law said in this week's chat that Ranaudo's strong outing in the SEC Tournament on Wednesday "threw him right back in the first round mix," but it's unlikely to get him back in the top ten picks because of the injury and his price tag. Baseball America's Aaron Fitt provided a first hand report from that game. A Scott Boras client, Ranaudo will not be cheap, nor should teams expect a discount due to the injury and poor overall performance.
Baseball America's Jim Callis projected the Red Sox to roll the dice and select Ranaudo with the 20th overall pick in his latest mock draft (sub. req'd). Boston received that pick from the Braves as compensation for losing Billy Wagner. Ranaudo is the draft's wildcard, a team willing to gamble on his health could grab him, as could a team with extra picks (Angels, Blue Jays, Red Sox, Rays). It's entirely possible that the team who drafts him will be unwilling to meet his asking price, and Boras takes Ranaudo to an independent league next year before re-entering the draft, similar to what he did with Luke Hochevar.
Exactly what teams like the Sox should do: take a chance on the risks with upside. They have the resources to take the financial hit as well as the depth and ability to absorb the sunk cost if injury or suckitude lead to prospect bust status.
Kevin Goldstein
guessed he'd end up in Milwaukee, but predicted he could fall to a "rich team" like the Sox:
QUOTE
The biggest wild card of the spring has been LSU right-hander Anthony Ranaudo. Seen by many as the top college arm entering the year, Ranaudo went into a tailspin following some elbow problems, leaving some to believe that he could fall completely out of the first round if a rich team in the 20s didn't take a chance on him. A strong showing in the SEC tournament has brought his stock back, and while his price tag is high, he could be a perfect fit here. Milwaukee is downright desperate for pitching help, and while the Scott Boras client won't come cheap, he could end up being a bargain similar to the Twins finding an injured Kyle Gibson available at No. 18 last year.
From MLB Draft Reports:
QUOTE
Scout's report filed: 4/24/10
Scouting Report
Fastball: Ranaudo struggled in a big matchup against Ole Miss' Drew Pomeranz, but his fastball was up to 93 mph.
Fastball movement: When he's on, he'll keep the ball down in the zone, but he's got below-average life on the fastball.
Curve: He throws a spike curve, over the top with downward action, 78-80 mph. It's an average pitch.
Changeup: It's an average offering, thrown 80-81 mph. He's still working on it, and it's behind the other two pitches.
Control: He should have average command in the future, but he's been struggling with keeping the ball down in the zone.
Poise: Showed decent mound presence, with average aggressiveness on the mound.
Physical Description: Ranaudo is a big specimen but is fairly athletic on the mound.
Medical Update: A stress reaction in his elbow knocked him out of action early this year. Reports are that it's not an issue now, but he hasn't returned to form since.
Strengths: Has shown very good fastball-curve combination in past, with decent changeup. Pitching for a top college program, he has thrown in a lot of big games.
Weaknesses: The injury, and the ensuing struggles, have many concerned.
Summary: Entering the spring as perhaps the top college arm in the country, Ranaudo missed a chunk of time with an elbow issue. Brought back slowly, he has struggled to regain the form that made him such an elite prospect in the first place. More than anything, he's struggled to find a feel for the strike zone, and for keeping the ball down in it like he had in the past. How he finishes his season will go a long way toward determing his Draft stock, but the injury, together with being advised by Scott Boras, make him very difficult to place.
Most thought the Sox would land Ranaudo, but Theo was able to get him 19 picks after the estimated slot. A nice play by the front office, especially given Theo's history with Boras clients and given what is the pitcher's seeming excellent potential.