Broadcast: TBS, Anderson & Darling again, at least we get Pedro in pre/post game.
Game 1, Sat 10/13, 8:09pm: Verlander vs Sale
Game 2, Sun 10/14, 7:09pm: Cole vs Price
Game 3, Tue 10/16, 5:09pm: Eovaldi vs Keuchel
Game 4, Wed 10/17, 8:39pm: Porcello vs Morton
Game 5, Thur 10/18, 8:09pm: Price vs Verlander
Game 6, Sat 10/20, 8:09pm if necessary: Cole vs Sale (5:09pm only if NLCS goes the full 7)
Game 7, Sun 10/21, 7:39pm if necessary
Following image is umpire assignments. they will rotate up one slot (and HP to RF) each game.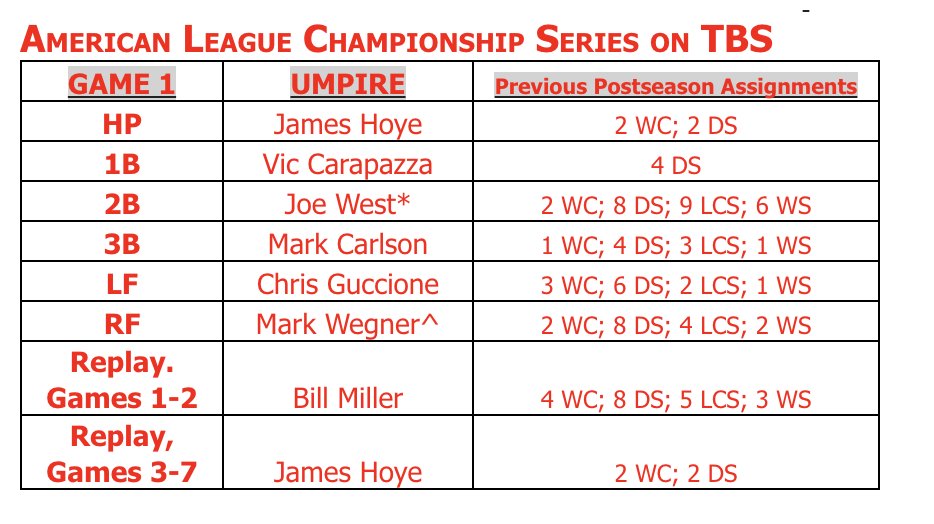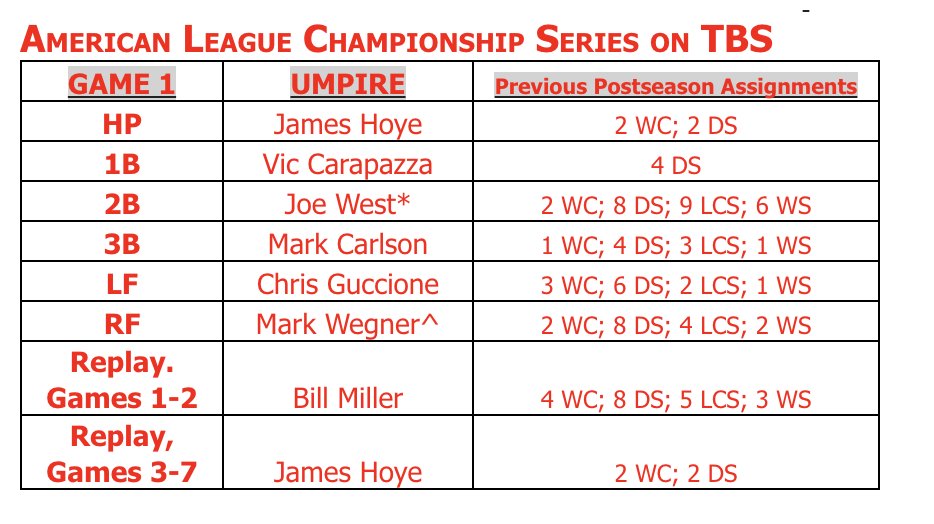 ==================================
FWIW, both Fangraphs (53.3%) and 538 MLB Predictions (52%) have the Astros as slight favorites. They aren't hitting as insanely well as last year, but still plenty good. The main separation is their pitching has been lights out all year, with Verlander and Cole are two legitimate #1s this year - it would be really preferable that Price unfucks himself so we can attempt to match that pairing.
The pupil (Cora) taking on his teacher (Hinch) will be a storyline. Mookie vs Bregman will also be a storyline. Both teams are very likeable except for Osuna, HOU's closer they acquired from TOR at the deadline despite domestic violence issues.
I'm not even thinking about last year's ALDS series. HFA is flipped, we're a completely different team. This should be a lot of fun.
Last edited: