Enter
Dougie Hamilton
: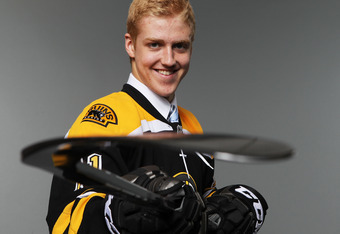 Born: June 17, 1993
Toronto, Ontario
6'5, 193 lbs, shoots Right
Drafted in the 1st round of the 2011 NHL Entry Draft, #9 overall by Boston from the Niagara IceDogs.
Spent two years in the OHL:
'09-'10: 64 GP, 3 G, 13 A, 16 P, 36 PIM, -8 (regular season); 5 GP, 0 G, 1 A, 1 P, 4 PIM (postseason)
'10-'11: 67 GP, 12 G, 46 A, 58 P, 77 PIM, +35 (regular season); 14 GP, 4 G, 12 A, 16 P, 16 PIM (postseason)
Kirk's
case for Dougie Hamilton
:
Strengths: Sizeable frame with long limbs; grew about two inches and added about 10 pounds of muscle last summer-- developing on an impressive physical curve, with another expected jump when he turns 18 in June. Very good skater with strong, power-generating stride and the ability to cover a lot of ground. Good footwork and directional change ability despite his size and high center of gravity. A right-shooting defenseman who generates very good power and torque on his shot.
...
Makes a pretty strong, crisp first pass and can help with the transition game. Good physical presence: will use his size to staple opponents to the boards. Not a huge open-ice hitter, but initiates contact and embraces the tighter-checking situations. Bright, intelligent kid who carries himself well and is a good teammate.
Weaknesses: Defense is a work in progress: switched from forward to defense at about 13-14 years of age, so is still figuring out the nuances. Prone to trying to do too much in his own end, can get to running around-- needs to keep things simple.
Style Compares to: Jay Bouwmeester. Although not as outstanding a skater as the Calgary Flames standout, Hamilton moves very well for someone with his size.
Hamilton compared himself to Bouwmeester as well - Chiarelli compared him to Rob Blake, I've also heard some Brent Burns and Tyler Myers comparisons.
"Hamilton...I love that kid. He's a two-way beast. He'll nail you, play physically in the defensive end, he can take the puck and go end-to-end with it. He can quarterback the power play. I think he's actually better as the triggerman on the power play-- he's got a big shot. He's approaching Larsson's level. Larsson's been there a couple of years, whereas Hamilton's development curve is heading straight up. So, Hamilton, I'd be shocked if he made it out of the top-eight picks this year."- Kyle Woodlief, Chief Scout and Publisher, Red Line Report; December 2010

Bust factor: Low to medium; Hamilton will play in the NHL; he's too big and mobile not to at least reach that level. But, the team who drafts him does so thinking they are getting a solid No. 2 maybe even a No. 1 someday. So, if he fails to live up to those expectations, depending on where he gets picked, Hamilton could be a bit of a disappointment someday. However, given his intelligence and work ethic, it's tough to bet against him.

Hamilton was ranked #5 on the ISS top 10 and #2 (behind Gabriel Landeskog) among HF's draft-eligble OHL players - here's HF's
write-up
:
2. Doug Hamilton, D
6'4, 195 pounds, Niagara IceDogs
(ISS rank 6; CSS final rank 4; CSS mid-term rank 7; 2nd amongst OHLers)

Hamilton has the size and skating ability that makes scouts -- and general managers -- drool. Blessed with an above-average offensive touch, Hamilton could have coasted into this draft. However, determined to make an impact, he put in extra time with assistant coach and former NHL blueliner Mike Van Ryn to take his defensive game to the next level.

He finished the season with 12 goals and 46 assists during the regular season, bumping up his production in the post-season to a better-than-point-per-game pace. Most impressively, he improved from a minus-eight in his rookie season to a stellar plus-35 this year.

Hamilton has the advantage of size and he's shown a willingness to throw it around. He also still has plenty of room on his frame to fill out and become an even-more imposing presence on the blue line.

Edited by PedroSpecialK, 27 June 2011 - 10:59 AM.