So this is what you punks will resort to now huh? Your bitch Burrows gets away with a bite so it's time to send flying elbows? You really think this is going to work? All you've done is wake up the slumbering bear. And you just don't want to go there.
Hey is your goalie Vinnie Goomba in a better mood today? He sure seemed pissed at you guys for the avalanche that struck last night. He really ought to check that catching glove though as it seems like there may be a hole in it. Oh there isn't? Don't know what to tell you then. I guess that happens sometimes. Happened to Tim Chevelde and look at him ... oops, hmmm maybe that's not very comforting.
Meanwhile that Thomas guy looked pretty good. Made a bunch of great saves and knocked down one of your Sedin sisters. It's always a good sign when one of your skaters gets shoved around by a goalie. You know, he kind of reminded me of this guy - remember him? OK, maybe Thomas didn't slash a Sedin sister ... yet.
Or maybe he'll just decide to play it on the straight and narrow and just shut you guys down, like this guy. Oh I don't think that's going in Pavel.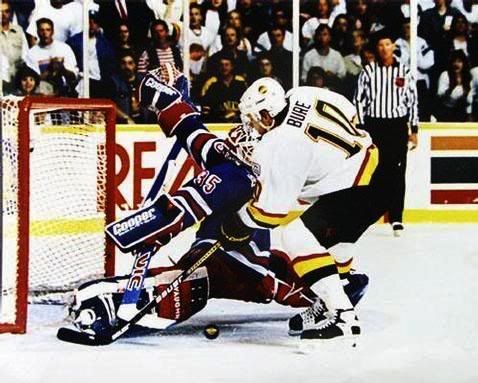 Remember what I said about the bear before. Well he's hungry and he's looking to bite off some heads. Don't write checks that your body can't cash cause the bill is due and we're coming to take it out of your hides.
Edited by NYCSox, 07 June 2011 - 09:55 AM.