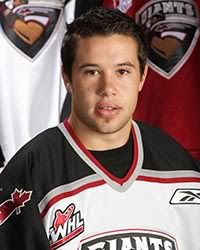 Draft Pick: 2010 4th Round, Pick 7, 97th Overall
Born: 9/3/90
From: Trail, BC
Height: 5'10"
Weight: 184 lbs.
Shoots: Left
Position: Left Wing
2006-07: 48GP, 0+5=5, 38PIM
2007-08: 67GP, 11+14=25, 72PIM
2008-09: 72GP, 28+22=50, 62PIM
2009-10: 72GP, 37+60=97, 44PIM
FWIW, 2009-10 Playoffs: 16GP, 12+12=24, 12PIM
Formerly of the Vancouver Giants of the WHL where he played with Milan Lucic and Evander Kane, Cunningham was ranked 108th amongst North American skaters by NHL Central Scouting before the draft. He won the President's Cup and Memorial Cup with Vancouver back in 2007 and since then has only improved, taking advantage of extra playing time and better linemates as players like Kane and James Wright graduated to the NHL. In his final season, Cunningham was a unanimous WHL First-Team selection and a nominee for WHL Player of the Year.
He doesn't have much of a physical presence but is known to fight through checks and work during his TOI. He also cobbled together at least 5 fighting majors in 2 seasons, according to
http://www.hockeyfig...ockeyfights.com
, including one against the gargantuan Tyler Myers. It is unclear how Cunningham projects and I honestly don't know how well his scoring abilities will translate to NHL. He's a versatile player and has played some center in his career, so he could offer a scoring touch and some flexibility to an energy line somewhere down the line, but from what I've read it seems unlikely he'll ever be a top-4 winger.
International Scouting Services in April 2010:
Cunningham has slid under the radar of ISS Western scouts most of the season -- that is until now. He enjoyed a terrific season, pulling up great offensive numbers at a more than point-per-game pace. With his quick shot and smart play with the puck he has continued to show strong finish and consistency around the net, capitalizing on his chances. His size isn't a concern and his heart/passion is a bonus.
Feature piece by Trans World Sport on the Vancouver Giants, including an interview with Cunningham beginning at 5:32 (You can also see him get dumped on his ass at 7:10)
http://www.youtube.com/watch?v=PBGoiK-Wu1A
Edited by Terras, 16 September 2010 - 09:33 PM.