There were only two amigos today at the field, since Mike F was otherwise engaged.
The temperature was 74 degrees at 9:30, with a light breeze and wispy clouds. It was another beautiful day in Paradise. There were fewer than 50 fans watching by the fence, just slightly more than yesterday. We're loving the small crowds, but expect that to change once the full squad reports on Wednesday. I thought you'd like to see a copy of the ST roster.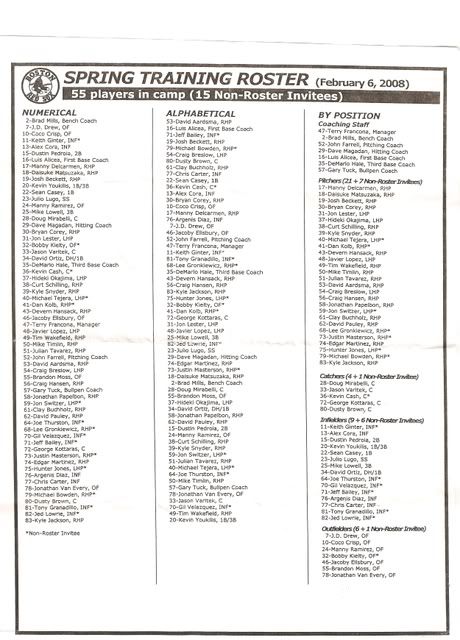 Had a chance to watch LHP Michael Tejera. He's athletic, but on the small side. PFP is pretty boring but this early in camp, everyone's loose. Buchholz was on the mound and threw home with such heat that he knocked back an unknown coach. Clay apologized by yelling "my bad" whereupon Joolian yelled "If you bad, I'm good." LOL.
Chris Carter did some work around 1B and didn't embarrass himself.
More PFP...This was the rotation group; Beckett, Dice-K, Lester and Wake. Lester was on the mound and failed to get down on a come-backer, so Brad Mills prodded "Put a little Lowell into it." Lester responded "But he's an athlete." Wakefield made a nice pick of a short-hopper and Mills responded "Get the cameras rolling. You looked like Millar on that play." Wake responded "Is there a red light on?" Everyone's a comedian during ST.
Practice today was only 90 minutes (12:00 tee times?) but the fans left the complex happy due to the players who came back out to sign autographs;
It was 82 when we returned to the car.
Tomorrow, the Three Amigos return.