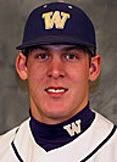 Name: Nicholas Hagadone
Born: 1/1/86
School: Washington
Height: 6'5
Weight: 230
Throws: Left
Drafted: 55th overall (Red Sox first pick) in 2007
Hagadone was a big-bodied lefthander with a low- to mid-80s fastball and solid breaking ball his first two seasons at Washington, and he entered the 2007 season as the Huskies' Friday starter despite having made just five career starts. He has dramatically increased his arm strength and velocity, as his physical ability and improved mechanics came together perfectly. Coach Ken Knudson moved Hagadone back to the bullpen after two starts, and his velocity jumped, as did his performance (1.88 ERA, 10 saves). Hagadone was throwing in the 90-93 mph range and had several outings when he hit 94-95 mph repeatedly. He also features a power slider that's at least an average pitch. While his delivery isn't textbook and his fastball tends to flatten out, he's deceptive, keeps the ball down (one home run allowed) and has some feel for pitching. His changeup also has average potential, and Hagadone likely will be given a chance to start in pro ball.
http://www.baseballa...res/264008.html
Big lefty closer whose fastball sits in the low 90s and tops out around 95 mph with good movement. Also mixes in a plus biting slider that he uses as his out pitch, a work-in-progress changeup, and is working on developing a splitter. Good control. Team leader and a hard worker. Could work as a starter if he can improve his changeup. Not a lot of miles on his arm.
http://soxprospects....gadone-nick.htm
Edited by Lucen, 08 June 2007 - 10:11 PM.